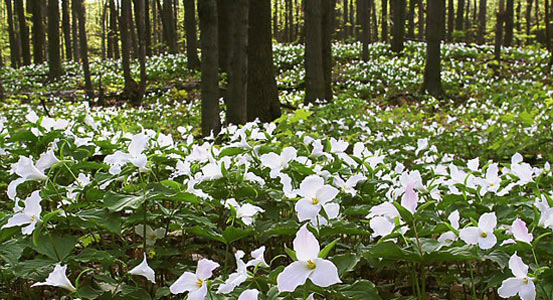 Ongoing Conservation of Marcy's Woods
In 1984 Point Abino, where Marcy's Woods is located, was identified as one of 38 Carolinian Canada sites, an area identified as a critical unprotected natural area in the Carolinian life zone of Canada. As a result of this designation conservation efforts in Carolinian Canada sites have been directed towards securing these sites through a variety of means including municipal designation, private stewardship, education, public awareness, and purchase through private ownership.
Marcy's Woods is an example of purchase through private ownership in an effort to maintain and conserve this section of Carolinian Forest. Marcy's Woods is, one of the most significant privately owned natural areas in Ontario's Carolinian Forest Zone, its conservation and protection will help ensure that the natural heritage of the region will remain a priority.
Green Belt Plan
Marcy's Woods also falls under the Green Belt Plan, a protection plan established in February 2005 that identifies and preserves greenspaces and allows for intelligently planned growth. The Green Belt also provides permanent protection for approximately 1.8 million acres of environmentally sensitive and agricultural land around the Greater Golden Horseshoe.
Environmentally Significant Area
As a result of the nationally vulnerable and or nationally threatened species that make Marcy's Woods their home including: three nationally/regionally threatened birds, thirteen birds of regional significance, eleven birds of regional concerns, nationally vulnerable mammal the southern flying squirrel, three nationally and provincially rare reptiles and amphibians and one of only three sites in the world with old growth eastern hemlock, Marcy's Woods has been designated by the regional municipality as an Environmentally Significant Area.