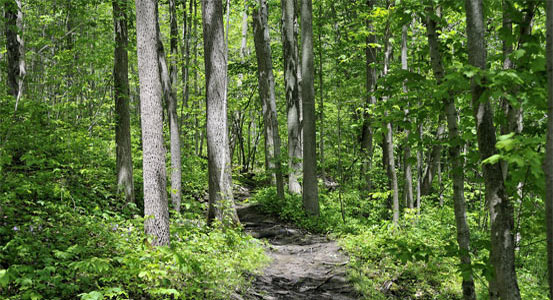 Restoration progress of Marcy's Woods
To exemplify that a nature reserve such as Marcy's Woods can be successfully preserved under private ownership, Marcy's Woods has undergone extensive restoration projects in the past five years through private funding from the Dino DiCienzo family. A main focus of nature reserves including Marcy's Woods is to alleviate any human impact from the area, while at the same time allowing human involvement and enjoyment. Achieving this balance is under way at Marcy's Woods.
Eliminating the human impact has begun through regular garbage clean up, eliminating access to the sand dunes through the consolidation of trails through fencing and blocking trails with logs and on-site supervision to encourage the natural ecosystem to rebuild itself.
To prevent unauthorized access to Marcy's Woods a combination of police presence, private security contractors and local resident involvement has greatly decreased vandalism, bonfires, hunting, logging, the unauthorized anchoring of boats along the shore, and motorized vehicle use.
Previously up to 100 boaters per day anchored off of Marcy's Woods shore. Boaters would climb and play on the dunes, severely impacting the natural environment. The implementation of signage, security and buoys has helped restrict the amount of access from the water to the shore, improving the stability and foliage of the sand dunes.
Before the private ownership of Marcy's Woods ATV, snowmobile and dirt bike use throughout Marcy's Woods was a considerable problem as a result of tire tracks, creating new paths, destroying sand dunes and other areas. By banning motorized vehicles in Marcy's Woods and erecting fences and barriers around the sand dunes the impact of motorized vehicles has already been reduced by 80% allowing for natural regeneration.
The combination of these initiatives which will continue to be built upon and privately funded at no cost to the public, and will not only help stabilize the environment of Marcy's Woods and encourage the growth and protection of the species that make it their home.